1.5mm/1.5mm/4.0mm. The 4mm oil ring is "new" to me. A bit more oil ring tension for better street oil control. The X on the skirt is for oil control too. See their web site...LINK.
Total piston/pin/ring/lock/rail weight - 597g
Bobweight = 1670g. That's pretty light.

Crankshaft now on order from Eagle.

Piston and rod assembly.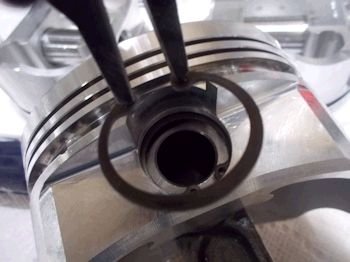 2 clips per side.

Ring gap target: .018" 1st, .022" 2nd.

Block still needs a final cleaning and POR15 paint.

Eagle crank set in place to mock-up #1 rod/piston to make sure rods clear and to see where the piston is at the deck.

#1 rod bearing clearance check: King standard size bearings installed. 1.4" (7/16") bolt torqued to 65ft-lb and .005" stretch.....

Rod journals at 2.0992"

zeroed bore gauge to 2.0992" -- #1 rod bearing clearance = .0025" clearance. (very good).

Mock-up of #1 rod/piston shows that more block clearance is needed.
Piston is .003" out of the hole. A FelPro .039" gasket will work well here and give .036" piston to head clearance.
tj

The photo to the left marks in yellow where the rods hit the block. I'll grind and then clean the block with hot soapy water and then Amsoil metal preserve, (a water repellant storage oil). The photo above is the block after grinding and cleaning.
Notice all of the areas that needed clearance due to the 3.875" stroke crankshaft. The cam tunnel area of the cylinder bottom and a wider area at the cylinder outboard.

Ok, well now...the next day. Time to check main cap bearing clearance and install crankshaft/rods/pistons and hope that all clears. I begin with installing the oil plug under the rear main cap. Photo taken for my verification records.

Standard size bearings (Clevite P) are fitting nicely. .0020" generally. ARP main studs torqued to 80ft-lb.

This photo shows the cam bearings being installed. I've recently come up with a verification technique to make sure the cam bearings are perfectly centered in their bore to align with the oil slot. Next photos shows an allan wrench poked into the oil hole of the cam bearings. If the wrench does not poke through it is not aligned properly. Yes you could use a mirror and visual verification too but the visual method (at least for me) is less precise.

Main thrust cap verified .007" before and after stud torque.

Here is the area that had to be re-ground to clear that wide rod bolt shoulder.

8 rods and pistons installed and all clear...so far.

Photo of camshaft for the records.

Lloyd Elliott camshaft: The final test of rod clearance will be with the camshaft installed. Many times with long stroke motors a few of the rods end up interfering with the cam lobes. (small base circle cams help with that).

Cloyes extreme timing set with massive motorcycle chain installed at "0". And the final clearance test passed! I was prepared to take a few rod/piston combos out to "adjust" the rod shoulders but thankfully that was not needed.

Photos shows oil rings (on the right) that were bent during piston installation. The rings slipped out of place while going into the piston ring tapered install tool. You cannot just bend them back into shape. The rings on the left are the replacement rings.

Melling 10552 oil pump.

Windage tray before messaging away from the rod bolts.

Windage tray after messaging.

This is the new gear that comes with the Cloyes timing set. It replaces the stock water pump drive gear.

Cam timing check. Cam card spec is 108 intake centerline. As found = 107 intake centerline. Timing set on "0".

The red oil is assembly lube for the timing gears.

Stock oil pan cleaned up with a light coat of POR-15 engine black.

To the right: Fel Pro premium head gasket #1074 at .039" crushed thickness @ 8.5cc

Lloyd Elliott Portworks Trick Flow heads.

One chamber will get a double check measurement of volume.

Ooops: This didn't hold the fluid.

Thicker grease worked better. I get 64cc.

My favorite stock style lifter. I'm always happy when the customer pays a bit more for the Crower 66330-16. I never have good luck with the GM LS7 lifter.

Heads on with ARP head bolts torqued to 70ft-lb.

Manley pushrods. 5/16" diameter and 7.150" long.

Jegs hub #51608

Dyno intake installed.

Oil pressure test: 62psig.

Dyno distributor installed at 36 deg BTDC.

Here we are at Jim Morgan Racing Engines.

I see a neat little spec (sealed) GMPP circle track motor in the background.

Here we have a big happy street motor. 476hp @ 5400rpm / 512lb-ft @ 4400rpm.
This is a 10.2 : 1 compression ratio pump gas friendly street motor that is heading for a 1996 Impala SS.